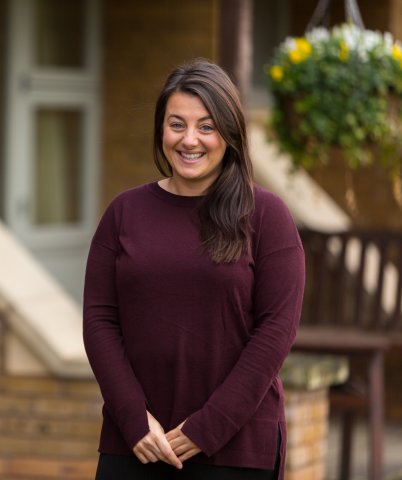 "We take the hospice to people's homes and provide nursing care there, so that families are able to spend quality time with other siblings or just to catch up on housework!"
After working on a busy NHS oncology ward, Laura wanted to try something a bit different and have the chance to really get to know the children and families in her care.
"Claire House is all about living and it's such a joy to come to work. I feel so privileged to work with the children and families. They inspire and amaze me on a daily basis. Seeing even the smallest thing making such a big difference and getting one smile out of someone who might not have smiled all day is amazing.
"It's also diverse – one day I'm helping a family to leave hospital quickly and the next I'm organising a super-hero picnic at the beach."
Allowing families to make memories with their loved ones is one of Laura's favourite parts of her job, such as spending a day at a duck pond in a local park with a Claire House family – precious family time many could take for granted.
"Mum and Dad had been too nervous to take their baby out of the hospital alone, so we picked them up from Alder Hey and took them to a lovely park.
"We stayed a few metres behind but we were there for reassurance and they built up their confidence to take him out and created precious memories of their own before their little boy sadly passed away."
"We also provide crisis and emergency respite care for families who are struggling at home and need a few hours rest after a bad night or family emergency."